Dyersburg City Schools Career and Technical Education
Dyersburg City Schools Career & Technical Education consists of 9 nationally recognized career clusters with the ultimate goal of preparing students for success at the postsecondary level and in their chosen careers. For information about Dyersburg City Schools CTE programs please contact Kim Yeiter, CTE Director.
Programs of Study Offered
Advanced Manufacturing- Machining
Ag-Vet Science, Greenhouse, and Agribusiness
AV Production
Business-Business Management
Criminal Justice
Health Science-Nursing Services
Marketing
STEM
Middle School AG
Middle School STEM
Middle School Career Exploration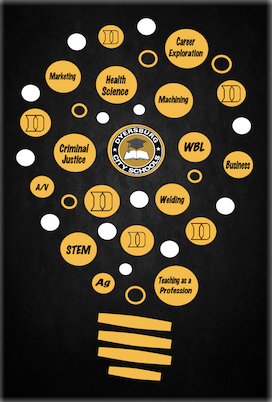 Kim Yeiter, CTE Director
731-286-3600
509 Lake Road
Dyersburg, TN 38024
Dyersburg CTE Quarterly Newsletter
Dyersburg CTE is proud to begin our new quarterly newsletter informing every one of the amazing options and opportunities available to the students of Dyersburg City Schools. Local industry , teachers, and administrators have worked seamlessly to provide life changing opportunities to students to help prepare them for their chosen path in life.
Contact CTE Director Kim Yeiter