Dear Trojan Families...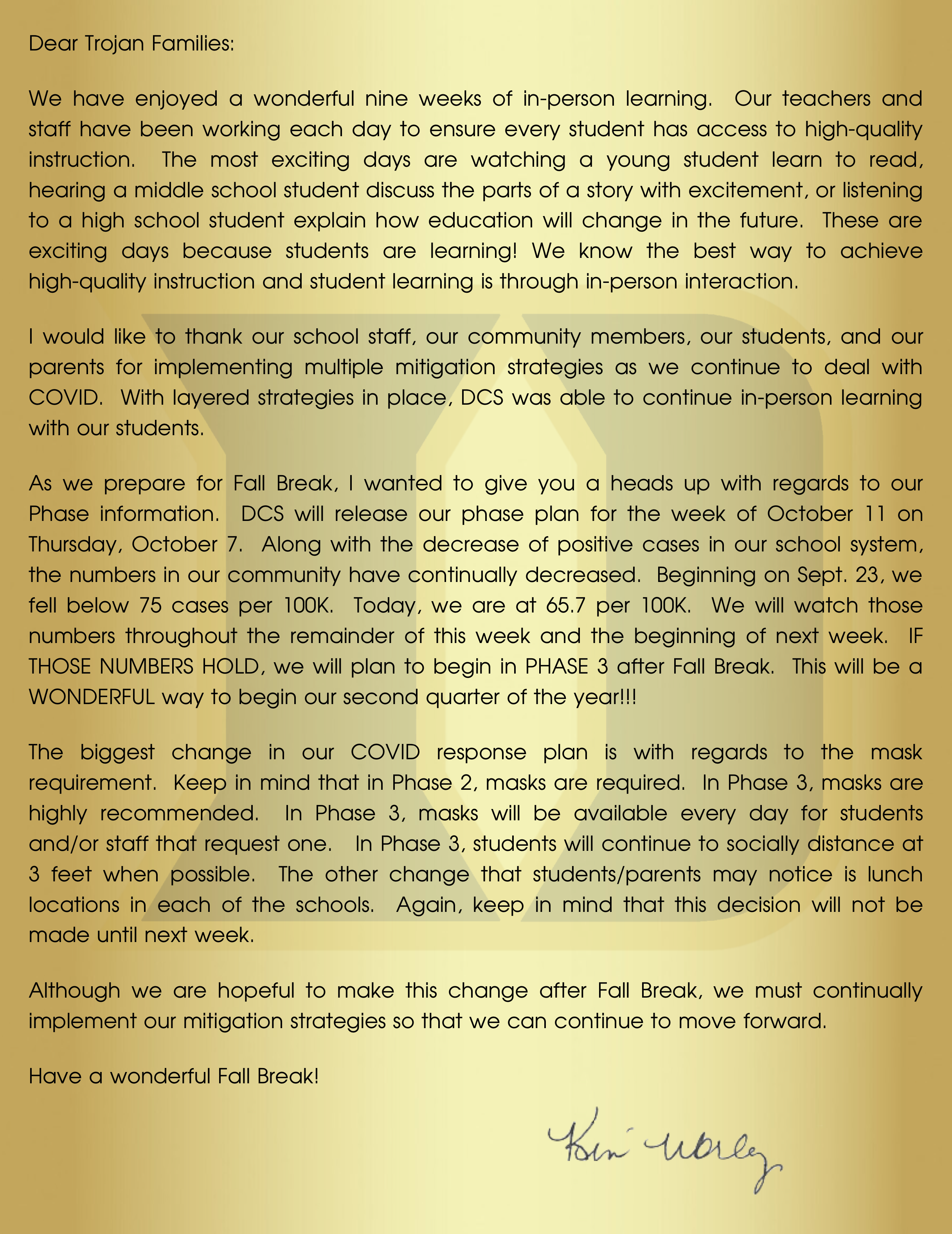 ---
Dear Trojan Families:
We have enjoyed a wonderful nine weeks of in-person learning. Our teachers and staff have been working each day to ensure every student has access to high-quality instruction. The most exciting days are watching a young student learn to read, hearing a middle school student discuss the parts of a story with excitement, or listening to a high school student explain how education will change in the future. These are exciting days because students are learning! We know the best way to achieve high-quality instruction and student learning is through in-person interaction.
I would like to thank our school staff, our community members, our students, and our parents for implementing multiple mitigation strategies as we continue to deal with COVID. With layered strategies in place, DCS was able to continue in-person learning with our students.
As we prepare for Fall Break, I wanted to give you a heads up with regards to our Phase information. DCS will release our phase plan for the week of October 11 on Thursday, October 7. Along with the decrease of positive cases in our school system, the numbers in our community have continually decreased. Beginning on Sept. 23, we fell below 75 cases per 100K. Today, we are at 65.7 per 100K. We will watch those numbers throughout the remainder of this week and the beginning of next week. IF THOSE NUMBERS HOLD, we will plan to begin in PHASE 3 after Fall Break. This will be a WONDERFUL way to begin our second quarter of the year!!!
The biggest change in our COVID response plan is with regards to the mask requirement. Keep in mind that in Phase 2, masks are required. In Phase 3, masks are highly recommended. In Phase 3, masks will be available every day for students and/or staff that request one. In Phase 3, students will continue to socially distance at 3 feet when possible. The other change that students/parents may notice is lunch locations in each of the schools. Again, keep in mind that this decision will not be made until next week.
Although we are hopeful to make this change after Fall Break, we must continually implement our mitigation strategies so that we can continue to move forward.
Have a wonderful Fall Break!
Kim Worley