Dyersburg City Schools to Celebrate Teacher and Staff Appreciation Week!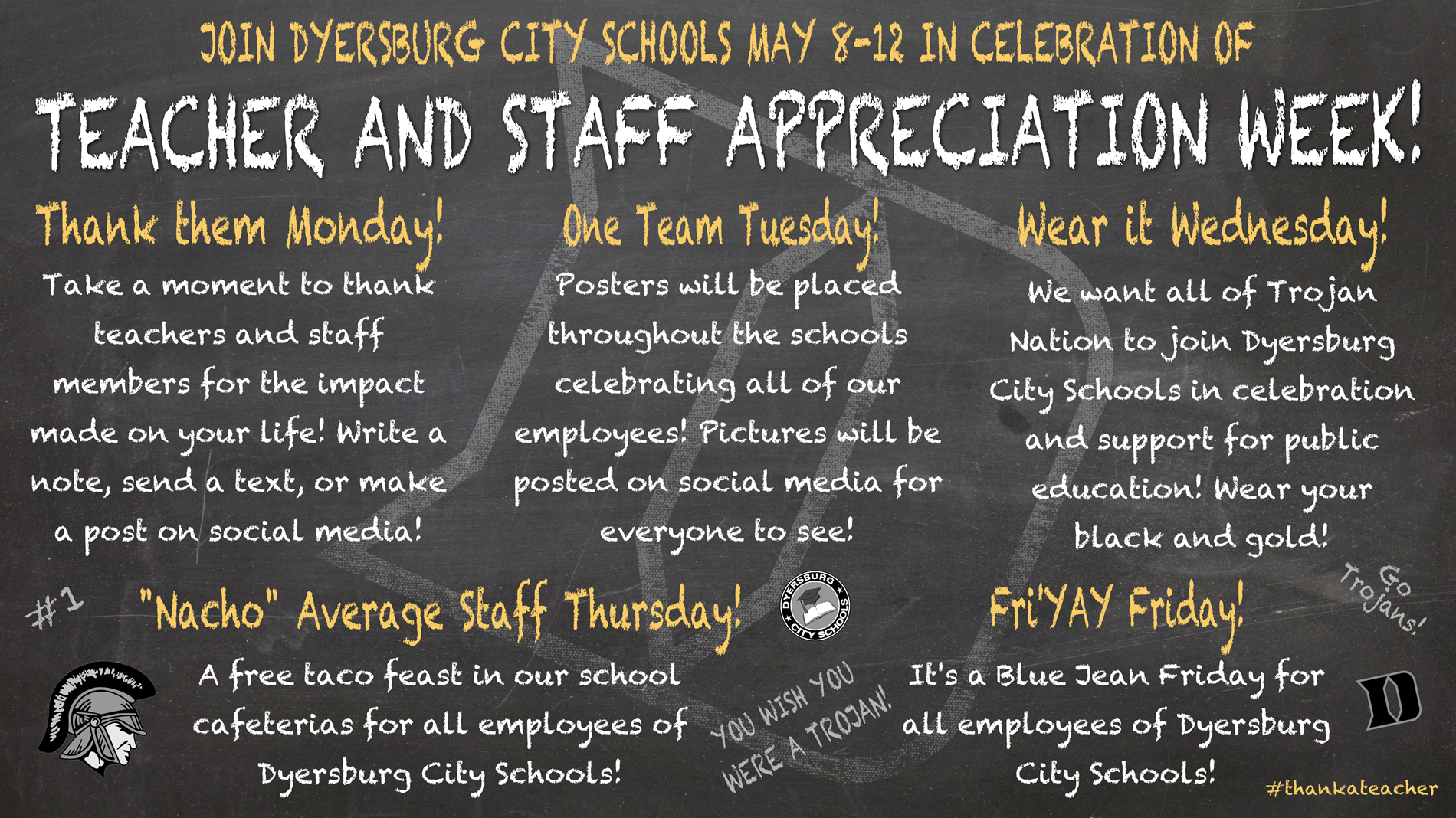 ---
On May 8-12, Dyersburg City Schools will place a special emphasis on those making a difference in the lives of our young people, families, schools, and community. In addition to having a special theme for each day, the school system is encouraging "Trojan Nation" to be part of the celebration!
"Dyersburg City Schools prides itself to have a tradition of excellence and a continued standard of high expectations," said Director of Schools Kim Worley. "Our teachers are the core of our success and our most valuable resource. We thank them and our many employees for their dedicated service to our students and our community."
The weeklong celebration kicks off with "Thank them Monday!" The school system is encouraging everyone to personally interact with the teachers and staff members that have made or are making an impact on their lives! Suggestions include personal notes, texts, and posts on social media!
"One Team Tuesday" will celebrate the many hats being worn throughout the school district. Customized posters will be distributed across the campuses in celebration of the many heroes making a difference on local campuses each and every day. Photographs will be posted on social media.
"Wear it Wednesday" will be a community celebration of public education. Everyone is asked to wear black and gold in a solidary show of their support! Businesses can go a step further by displaying school colors. The district encourages all supporters to post images on social media showing your "Trojan Pride!"
Campus cafeterias will take center stage on "Nacho" Average Staff Thursday! All employees of Dyersburg City Schools will enjoy a free and delicious taco feast prepared by system cafeteria staffs!
The celebration will culminate with Fri'YAY Friday! On the final day of Teacher and Staff Appreciation Week, all employees will enjoy a Blue Jean Friday!
As part of the celebration, City of Dyersburg Mayor John Holden has issued a City of Dyersburg Proclamation proclaiming the week of May 8-12, 2023, as Teacher /Staff Appreciation Week.
Pictures from Teacher/Staff Appreciation Week will be posted on the Dyersburg City Schools facebook page (@dburgschools). For school supporters without a facebook account, posts from the facebook page will also be visible on the home page at dyersburgcityschools.org